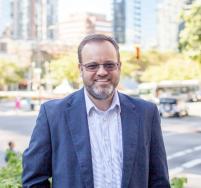 Rev. Dr. Jason Byassee is an American citizen who grew up in Chapel Hill, North Carolina, and received his undergraduate degree from Davidson College in North Carolina. He subsequently received his Master of Divinity from the Duke Divinity School and PhD in Religion from Duke University in North Carolina.
After completion of his PhD, Jason was ordained as a pastor of the United Methodist Church of America, in 2005. Subsequently, Jason was the assistant editor at Christian Century magazine in Chicago for three years followed by three years as the Executive Director of Leadership Education at Duke Divinity School. In 2011, Jason accepted a call to be the Senior Pastor at Boone United Methodist Church in Boone, North Carolina.
Jason has always had a significant interest in academia and in 2015 he accepted an appointment as the inaugural Butler Chair and full Professor of Homiletics at the Vancouver School of Theology, positions he held for seven years. In 2019, Jason was on sabbatical with his family from VST and was a visiting fellow at St. John's College in the Department of Theology and Religious Studies at Durham University in the United Kingdom, for two terms. In addition to his work at VST, since 2020, Jason has preached weekly and done pastoral care and outreach to attract new members at the Chinese Canadian Presbyterian Church in downtown Vancouver.
Jason is married to Jaylynn, and they have three boys, and a yellow lab named Charlie.